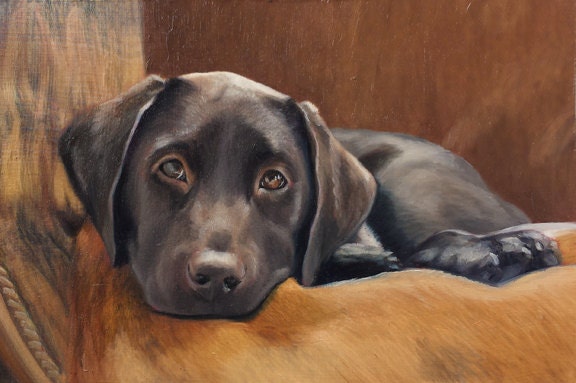 CUSTOM PET PORTRAIT - Miniature portrait - Small Painting - Lab Painting - Oil Painting
$90.00
Details
What a lovely gift to receive! A custom portrait of their own beloved pet and now you can order miniature portraits for as little as $75!

Commission a custom pet portrait of your special pets. My main goal is to be able to capture the true character and personality of your pet in your custom portrait. They make wonderful and affordable gifts, ideal for Birthdays, Christmas and other special occasions!

So here is how the portrait ordering process works!

1. Select the photo or photos that you would like me to use to create your custom portrait.
2. Send me your photo(s) via Etsy or email and a message sharing any ideas you may have (cropping, background, color, etc...)
3. Decide on the size you would like.
4. Choose any item from my shop to place the order. You'll just need to select the size you would like from the scroll bar before adding to basket.
5. I will contact you when I begin work on your portrait!
6. Once your portrait is finished I will send you a photo of your portrait for your approval (changes can be made).
7. Your work of art gets shipped to your home!

Just send me a message if you have any questions, and email me your photo to:
sketch143 [!at] hotmail.com or to your Etsy message.
Words cannot express how happy I am with this painting! The attention to detail is perfect <3 I will definitely be having another painting commissioned :)
I am so happy with the portrait that Melissa created of my parents' dog, Sammy. When I ordered the portrait, Sammy was recently diagnosed with lymphoma. Shortly before the portrait arrived, Sammy passed away. Immediately when I opened the package, I burst into tears. Melissa truly captured Sammy's personality through her painting. She kept communication with me throughout the process and was a pleasure to work with. Thank you Melissa!!

I am so pleased with this picture of our sweet Bo. It is spot on and is so precious to have as a reminder of our boy. Melissa is an amazing artist.
Melissa did an amazing painting of my boyfriend's very old dog. His family absolutely loved it. Melissa was friendly, approachable and professional throughout the whole process, and she is extremely talented. I highly recommend her work, it was a wonderful gift idea!
Payments
Payment is requested to be made in full at the time you place your order. If you prefer to make a 50% deposit to place the order, following the final 50% when the painting is completed, this can also be arranged. Prices are set in U.S. funds and taxes are included.
Shipping from Canada
Paintings are packaged in plastic, bubble wrap and craft paper to insure a safe delivery. Canada Post is primarily used for all shipping. When shipping within Canada, it takes 1-3 business days. Shipping to the U.S. take 3-4 business days and International shipping takes 6 - 30 days. Once the painting has been shipped, you will be emailed a tracking number along with your shipping notification.
Refunds
If the painting become lost in delivery, a full refund is given. If a painting is damaged during delivery, a second painting can be painted for you free of charge.